This news is a little bit older by now, but I'm super hyped about Naomi Novik's upcoming novel Spinning Silver. It's inspired by Rumpelstiltskin and is supposed to come out July 10th of this year. Her previous fairy-tale inspired novel, Uprooted, was an instant favorite of mine and I can't recommend it enough. Not to mention just look at these covers!!!
Goodreads
"Our Dragon doesn't eat the girls he takes, no matter what stories they tell outside our valley. We hear them sometimes, from travelers passing through. They talk as though we were doing human sacrifice, and he were a real dragon. Of course that's not true: he may be a wizard and immortal, but he's still a man, and our fathers would band together and kill him if he wanted to eat one of us every ten years. He protects us against the Wood, and we're grateful, but not that grateful."
Agnieszka loves her valley home, her quiet village, the forests and the bright shining river. But the corrupted Wood stands on the border, full of malevolent power, and its shadow lies over her life.
Her people rely on the cold, driven wizard known only as the Dragon to keep its powers at bay. But he demands a terrible price for his help: one young woman handed over to serve him for ten years, a fate almost as terrible as falling to the Wood.
The next choosing is fast approaching, and Agnieszka is afraid. She knows—everyone knows—that the Dragon will take Kasia: beautiful, graceful, brave Kasia, all the things Agnieszka isn't, and her dearest friend in the world. And there is no way to save her.
But Agnieszka fears the wrong things. For when the Dragon comes, it is not Kasia he will choose.
———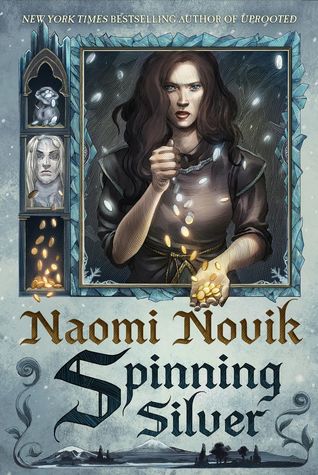 Goodreads
Miryem is the daughter and granddaughter of moneylenders… but her father isn't a very good one. Free to lend and reluctant to collect, he has loaned out most of his wife's dowry and left the family on the edge of poverty–until Miryem steps in. Hardening her heart against her fellow villagers' pleas, she sets out to collect what is owed–and finds herself more than up to the task. When her grandfather loans her a pouch of silver pennies, she brings it back full of gold.
But having the reputation of being able to change silver to gold can be more trouble than it's worth–especially when her fate becomes tangled with the cold creatures that haunt the wood, and whose king has learned of her reputation and wants to exploit it for reasons Miryem cannot understand.
———
I'm planning on reading her other series Temeraire sometime this year too so if you've read it I'd love to know what you think of it! Rather than a fairy-tale retelling its an alternate history series with dragons (my ultimate weakness). You can check out the first one, His Majesty's Dragon, here on Goodreads.
You can read an excerpt of the new novel here on the Verge! Let me know what you think! I've read it and I'm already quite obsessed.